Fast and accurate online contracts for all areas
Centralise online contract request in a single platform, and automate the generation of legal agreements for all your organization's areas ensuring greater efficiency, quality and compliance.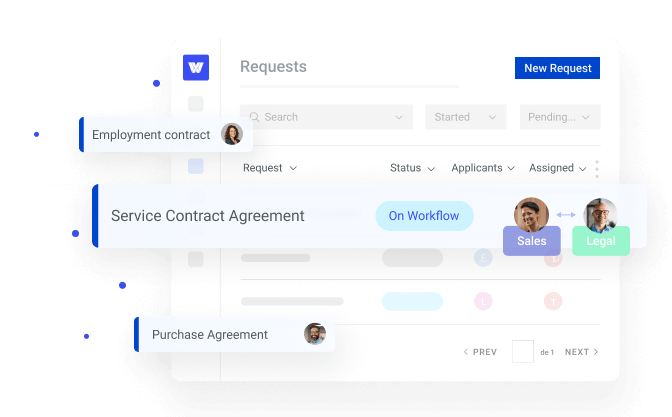 cost saved compared to manual review
cost saved compared to manual review
cost saved compared to manual review
Say goodbye to manual contract requests
in scattered email chains
Incomplete information to generate new contracts
Poor traceability of requests and their status
Manual errors and delays in mail solicitations
Lack of process metrics and reporting
Systematisation and standardisation of the process
Visibility and permanent control of requests
Automation of repetitive and recurring tasks
Access to detailed reporting in real time
Webdox is the most agile and secure way to generate online contracts

for any type of organisation's type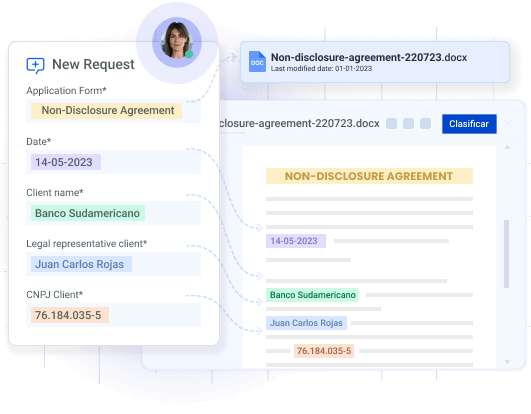 It provides greater autonomy
to business areas
Transform your document templates into 100% intuitive and secure online contract request forms.
Create customised forms for each business area and streamline the accurate recording of all data required for the generation of new contracts and documents.
Automatically generate contracts in Word format, connecting the data collected in the request forms with the fields of the approved contract templates for each process.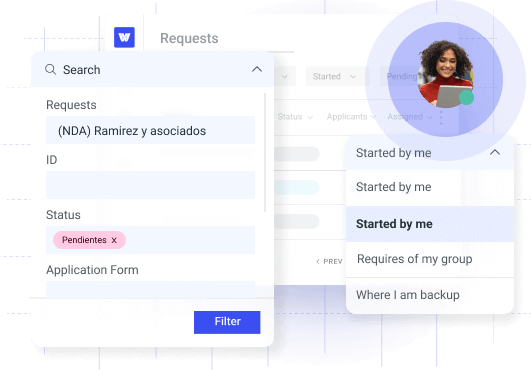 Webdox increases legal
team efficiency
Establish different roles and managers for handling contract requests, assigning responsible parties according to the complexity or nature of the requests.
Uses intelligent search filters to manage requests by current status, selected request form or assigned specialist, among others.
Configures SLAs for the attention of contract requests and guarantees an improvement in time compliance.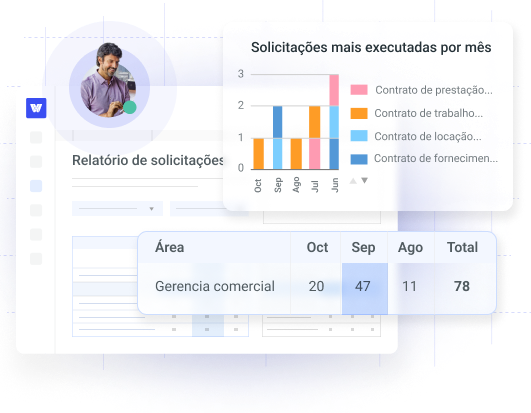 Act faster
with better reporting
Get a comprehensive and detailed overview of the contract solicitation process in real time.
Find out from which areas and type of employee the contract and document requests come from, over a period of time.
Get to know the response performance in the attention of contract requests and those responsible for each process with our Nº1 contract creator in LATAM.
Start contract processes from your favourite tools
Thousands companies' users across the region

are already transforming their Contract Management with Webdox
With Webdox we have a more
efficient, agile and reliable process of digitisation.
Webdox has been a very
flexible tool,
easy to implement and use for us.
With Webdox
electronic signature
we reduced the signing time of our contracts by 90%.
It is a "tailor made" platform fully adaptable to the company's internal processes.
With Webdox we can

permanently track

the actual status of our contracts.
Webdox allows us to automate several operations that were previously done manually.
GET TO KNOW MORE FEATURES
Manage the lifecycle of your contracts
from its beginning to end in a single platform.
Get started today
with Webdox CLM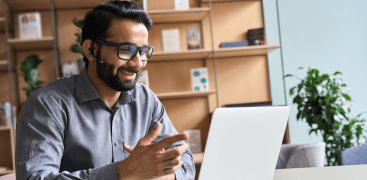 Get free advice from our contract management experts and ask any questions about Webdox CLM.
Nuestros expertos en gestión contractual están listos para ayudarte
Resolveremos cualquier duda que tengas sobre nuestro software de gestión y firma de contratos.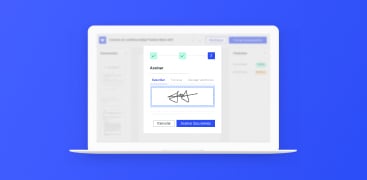 Request a Webdox CLM demo
Receive a live demo tailored to your business needs.
Solicita una demostración personalizada
Descubre las capacidades y funcionamiento de nuestra plataforma con el acompañamiento de un consultor especializado.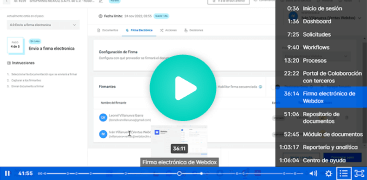 Access to the Webdox CLM Product Tour
Learn about our contract management software through a guided tour.
Ver Webdox en acción
Accede a un recorrido guiado por cada una de las funcionalidades de nuestra plataforma y descubre el poder de la automatización de contratos.