Discover how to improve your company's contract management with Webdox CLM
Reduce 59% of hours
dedicated to contract management.
Achieve 100% traceability
of the contractual process.
Save up to 90% of time
in the signing process.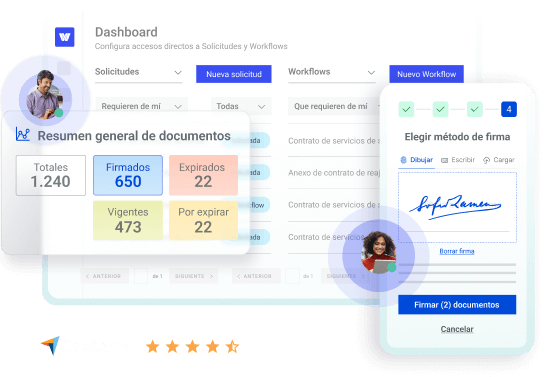 With Webdox CLM

you will be able to:
Accelerate revenue
Contract automation reduces the sales cycle, generating revenue more quickly.
Save time and money
Digitalization reduces the time spent on administrative tasks and decreases the operational costs of contract management.
Ensure compliance
Standardized processes facilitate compliance with regulations and standards during contract creation and execution.
Reduce risks
A CLM software helps mitigate risks associated with compliance, privacy, security, and legal validity of contracts.
Increase productivity
A collaborative and unified workspace for contract management facilitates efficient work for teams.
Promote better relationships
Fluid and transparent communication promotes stronger business relationships with your partners.
With Webdox CLM

you will get:
With Webdox CLM, we have reduced request and signing times by 25%. Its ease of use and adaptability to each contract's needs have been fundamental.
Webdox CLM has increased our internal performance and reduced the time spent on operational tasks, avoiding the need to search for contracts in different sources.
Webdox has allowed us to control the contractual processes from request to signing, reducing time and significantly improving our management.
With Webdox, we were able to speed the management and signature of contracts and promissory notes with clients and suppliers, optimizing the legal process of any negotiation.
Webdox gives us the possibility to integrate the CLM with the different administrative tools we already have in our operations, such as ERP systems.
World-class security, infrastructure and compliance